Revolutionizing medical imaging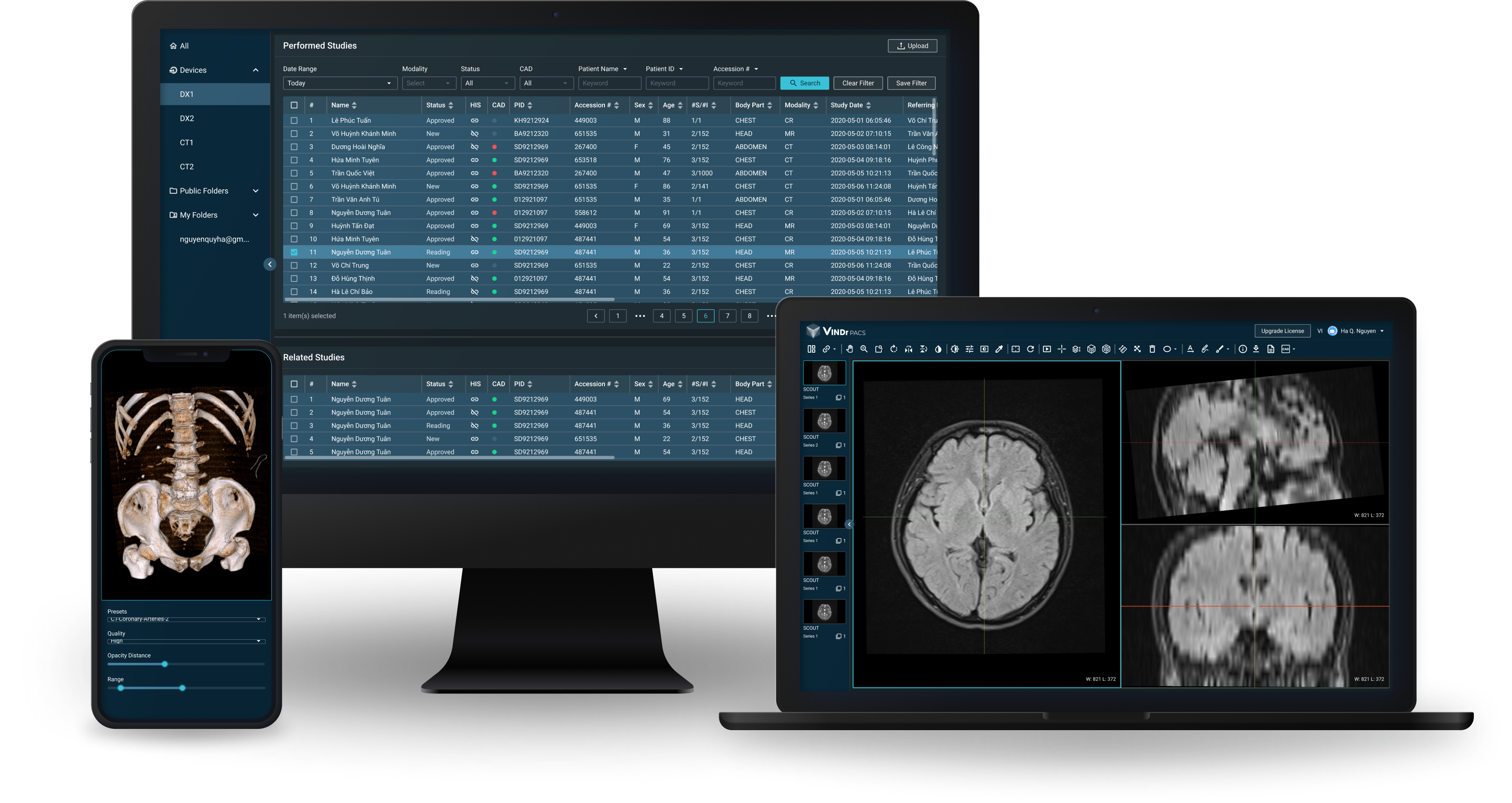 Enjoy lightning deployment and integration. Your PACS and viewer are at hand in just minutes.
Smart-read your images. We provide a full-fledged DICOM viewer integrated with vast intelligent tools for image analysis.
No need to worry about local servers. Teleradiology has been made easy with our cloud PACS storage and web-based viewer.
VinDr PACS offers a flexibility between cloud and on-premise deployments, or a hybrid of them, depending on the requirements of the hospitals or clinics.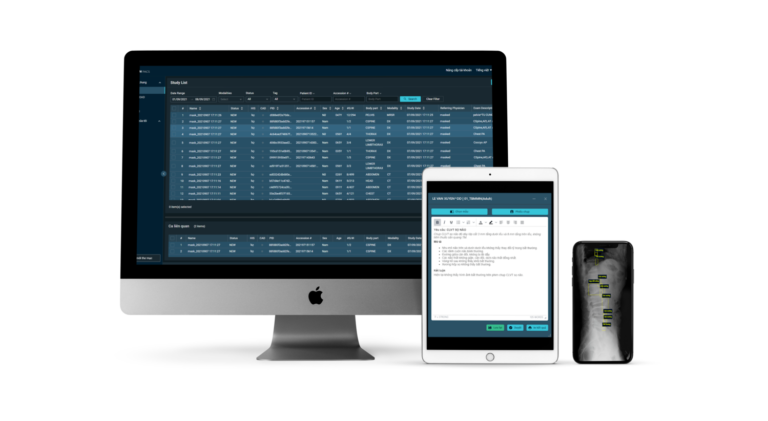 VinDr PACS facilitates accessibility through a web browser with zero installation. Users can access the PACS and Viewer anytime and anywhere they want without worrying about updating the software.
VinDr PACS is compliant with the global standards DICOM, HL7, IHE, HIPAA to provide great interoperability with other systems.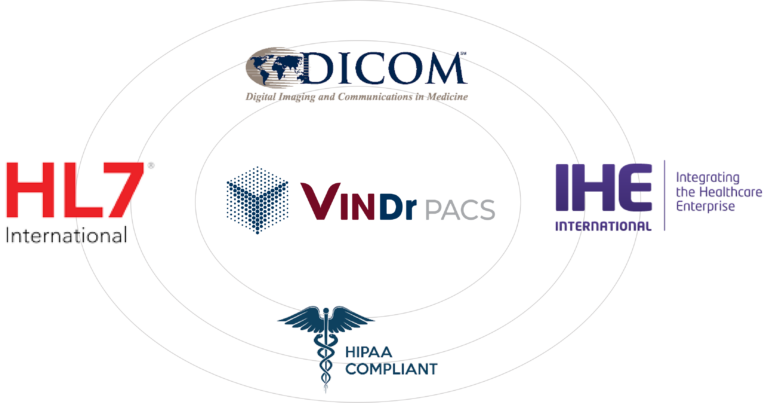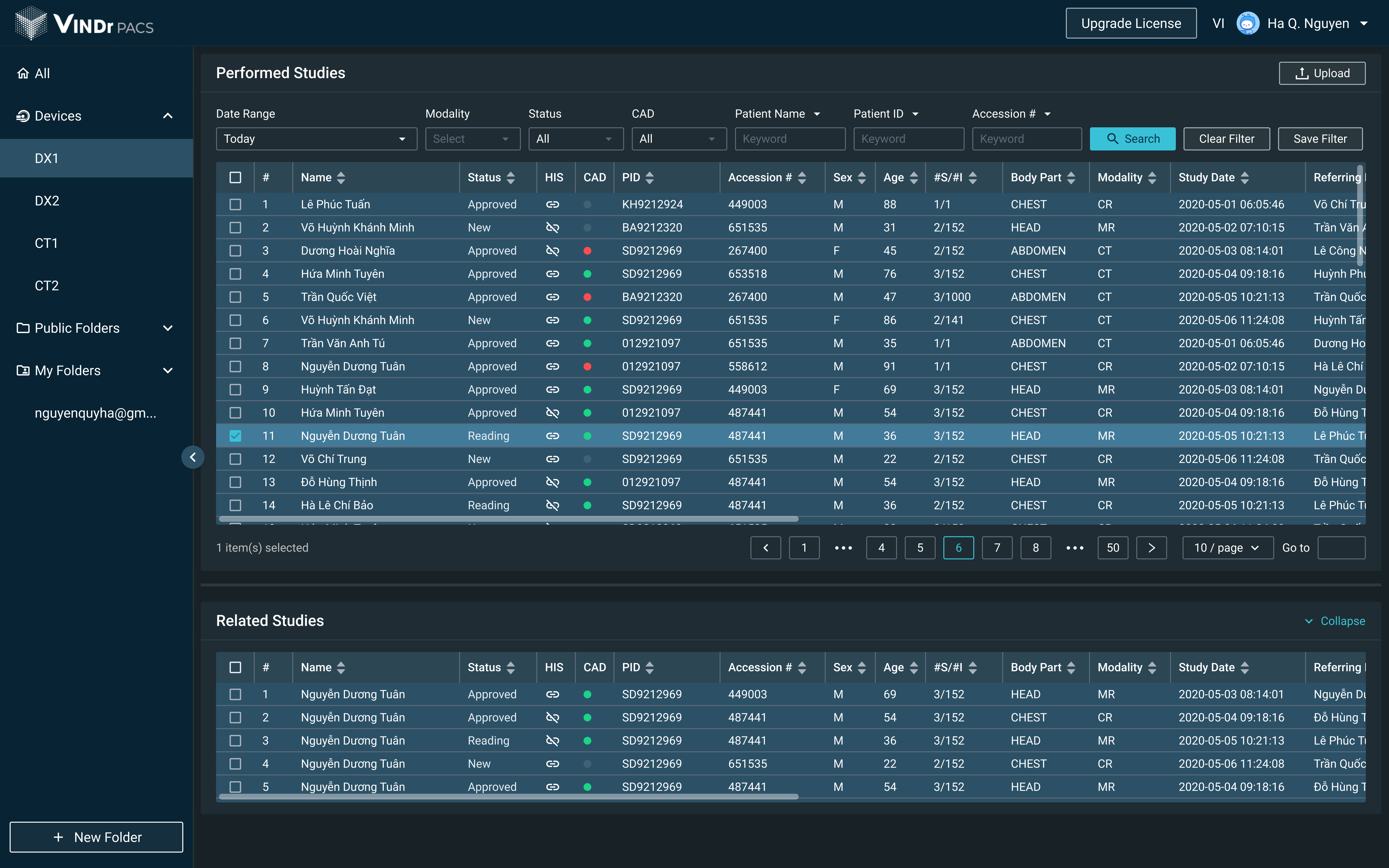 Provides standard filters and advanced search
Synchronizes with HIS and modalities
Updates status according to the hospital-defined workflow
Shows all related exams with the same PID
Displays triage flags suggested by Computer-Aided Diagnosis (CAD) tools
Standard image processing tools, annotation tools, cine
Multiple 3D rendering modes: VR, MPR, MIP
User-defined hotkeys and preset window levels
DICOM tag browser
Supports downloading DICOM files and image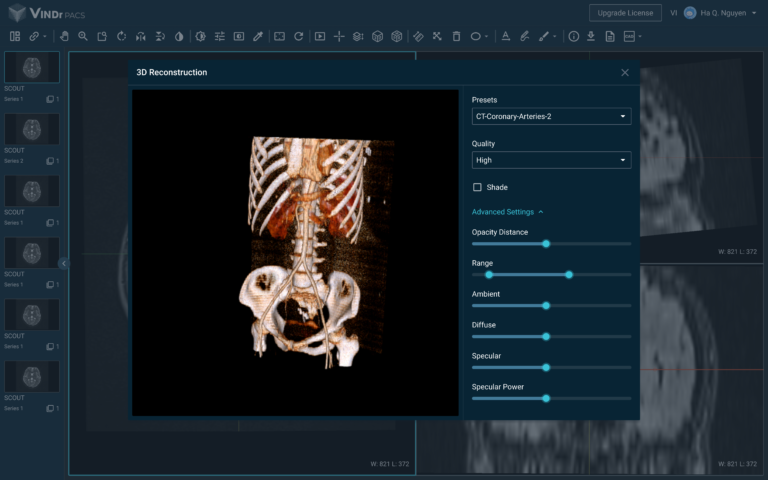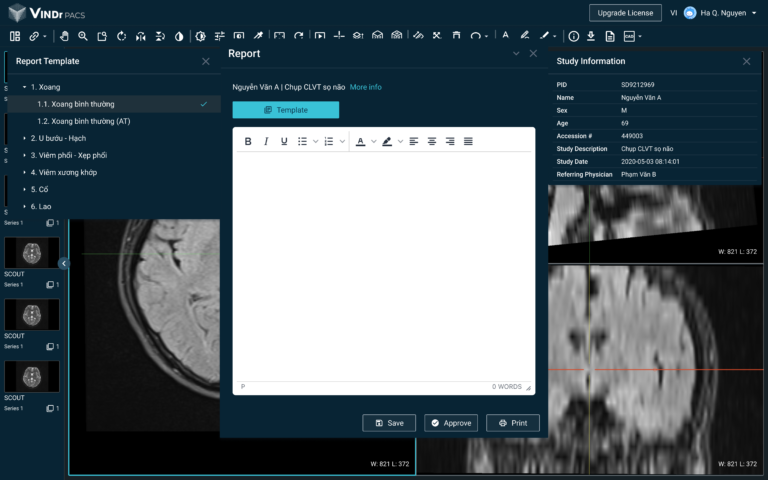 Provides an editor to prepare the report inside the viewer
Supports various report templates based on user authority (Radiologist, Clinical, Anonymous)
Supports creation & automatic selection of report templates
Shows report history
Computer-Aided Diagnosis (CAD) Tools
Supports both automatic and manual analysis of images
Highlights suspected lesions on the images
Suggests a probability of abnormality for each exam
Displays triage flags on the worklist
Supports analyzing 7 types of images: Chest X-ray, Spine X-ray, Mammography, Chest CT, Liver CT, Brain CT, and Brain MRI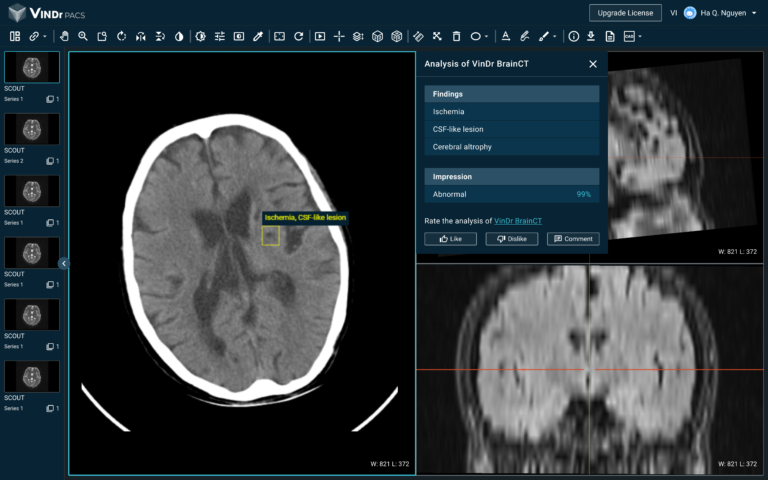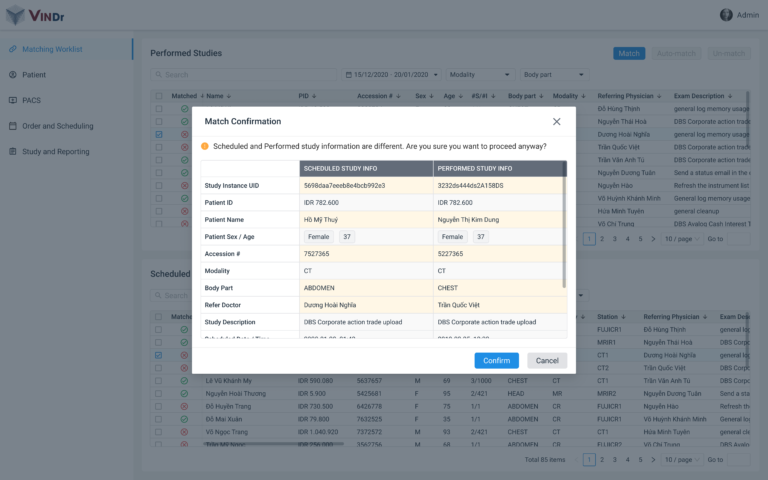 Supports creation & configuration of a new deployment site
Helps create accounts and set their roles
Manages orders received from HIS and matches them with performed exams
Hardware and Software Requirements
Items

Requirements

Operating System

Windows 7 (32/64bit) / 8 (32/64bit) / 10, Linux, MacOS

Web Browser

Chrome, Microsoft Edge, Safari, Firefox

PC Workstation

CPU: ≥ 2 cores 3.0Ghz

RAM: ≥ 4GB
HDD: ≥ 500GB

SSD: Optional

GPU: Optional

Monitor

Monitor: ≥ 24inch FHD

Medical monitor: Optional

Internet Connection

Bandwidth: ≥ 40 Mbps
VinDr PACS full-option version
Get access to advanced features